What is EquiTred Rubber Arena Footing?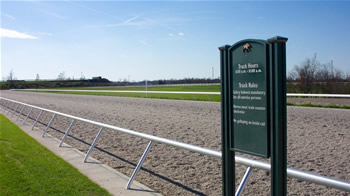 ♦ EquiTred is not made from recycled tires. The rubber you put in your arena should be clean and unused. Don't let anyone use your arena as a dumping ground for products that have been exposed to toxic oils, solvents, and various road debris.
♦ EquiTred is a recycled industrial rubber, free of all contaminants to begin with, so this insures our guarantee of 100% free of any wire, metal, or other foreign material.
♦ The rubber granules used for our footing material are the very same as professional athletes train on.
♦ EquiTred can be custom ground to fit your individual needs in order to match the product size to your specific discipline.
Why Use EquiTred Arena Footing?
Protects Your Valuable Investment:
Our shock absorbing footing reduces the possibility of joint stress and injury to your horses.
Reduce Compaction of the Riding Surface:
EquiTred suspends your natural materials so that as your horse works, the footing doesn't become compacted nearly as quickly. It literally keeps your arena in a state that emulates a freshly harrowed surface for hours longer.
Helps Reduce Freezing in the Cold Temperatures:
In most outdoor and some indoor applications, EquiTred will lengthen the riding season. The freezing point of rubber is very low which enables the surface materials to remain loose and not completely freeze.
Helps Reduce Dust and Material Breakdown Problems:
EquiTred is screened to remove harmful rubber dust. The pure rubber granules do not decompose as some natural footings will. Our arena footing will help prevent your sand from natural breakdown, causing dust, from riding and maintaining your area. Because of this, you will not have to replenish the materials in your arena surface.

Please Contact Us For Complete Footing Solutions
That Include Variable Sand Blends and Specialty
Formulated Fibers from Germany
Learn About Application, Installation and Pricing